As we daydream of the open road, we look back to last year when travel was easier and join Kate Higginson, who runs Print Club London Art gallery and studios in Hackney with her husband Fred. In search of a much-needed escape with their two sons, the family jumped into their all electric I-PACE and set off on a trip to Dartmoor.
Kate writes...
Like everyone else we've found the stress of the past 6 months pretty intense so just before another lockdown hit, we decided to escape Hackney and head to deepest Dartmoor for a trip with our two sons. An escape from the madness of London and some much-needed respite.
We no longer have a car for a few reasons, mainly environmental, and we often hire cars or borrow from friends. We cycle to and from work, so the need has always been only for holidays. And my husband is also keen in the future to only use hire companies as he believes environmentally it's the way forward.
Cars are a big thing in our family, I grew up going to the Grand Prix (often in the cheap seats) with my dad and my sons have inherited our love of speed and the smell of petrol. So, there's been much talk about the new wave of luxury electric cars in our house. And when we spoke to THE OUT and were offered the Jaguar I-PACE for our trip I jumped for joy. I also knew my husband would be happy as it wasn't a petrol car, and the boys would be happy as this was the car they've been dreaming about.
The car arrived Sunday evening in the dark of night as a total surprise to our sons, who were on its arrival running up and down the street shouting with joy. The drop off was seamless and for ten minutes the four of us sat in the car dreaming of our trip departure the following day and our journey ahead. I was admittedly slightly more concerned with the white leather interior and the thought of welly boots in Dartmoor and copious mud so extra towels and plastic bags were packed to avoid a disaster.
The next morning bright and early we took off and headed off on the 300 mile trip. The car has 262 miles before charging, and my husband took great delight in mapping our journey and where to stop. It wasn't quite as straightforward charging as you might think, a few points didn't work when we arrived, and we soon discovered that you only want to stop at the high-speed points, not the slow ones. A stop in a Morrison's car park for 30mins to only add 5 miles was a lesson learnt.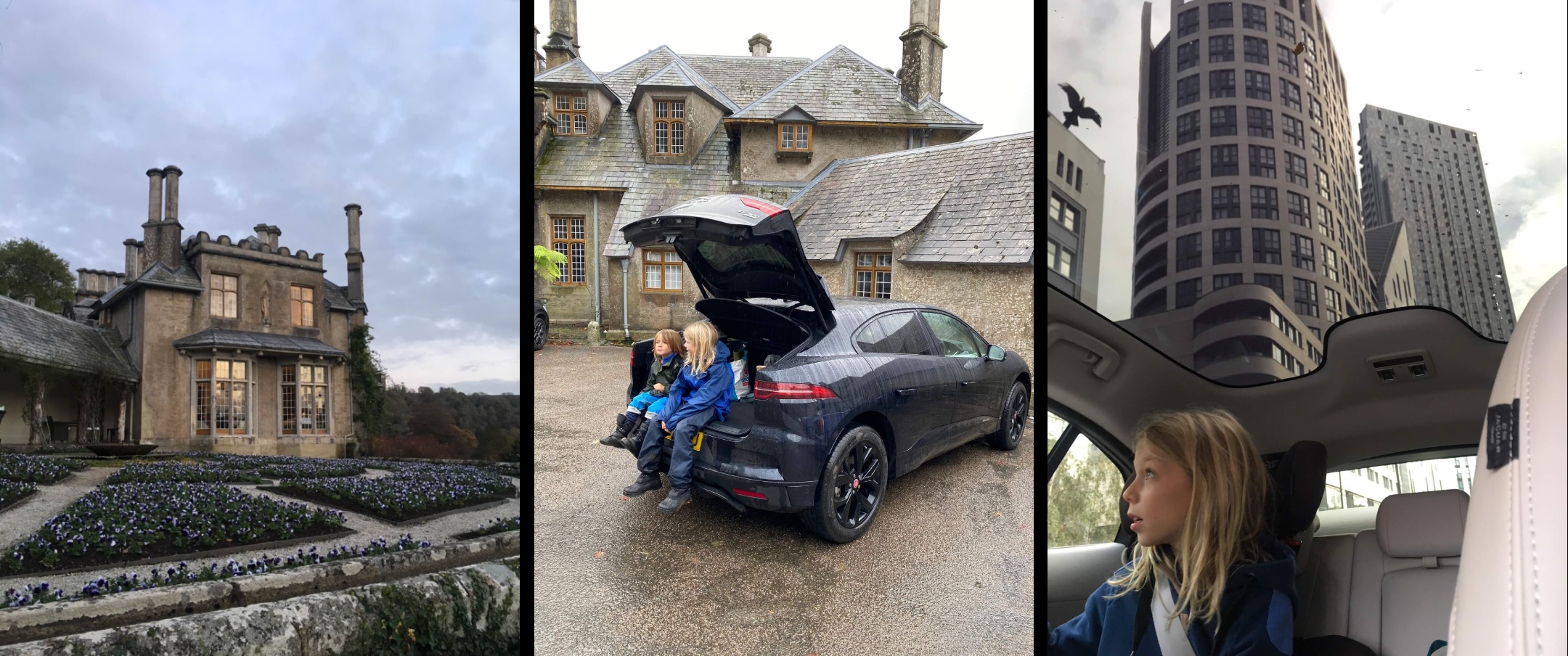 Our next stop was in Exeter at a mega high speed charging point and once we downloaded the correct app it was so quick. What was also interesting was the community of electric car users, we spoke to lots of other people on route who told us better apps to use and which places were best in the west country, which charging point at the best café and so forth. It felt like we had been initiated into the electric car family and finally we had found our feet.
One trick with the electric cars is research, there are several apps and some much better than others. But this was for my husband the planning was very much part of the fun, we've spent a lot of the last year exploring parts of the UK and only wish we had used THE OUT before.
On arrival at our hotel, The Endsleigh, they didn't have a charging point but were quick to sort out a more manual approach which worked brilliantly. We spent our week zipping around the moors in the car enjoying what felt like driving in the future. Neither my husband or I could explain how thrilling it was to drive such a fast car and know that you aren't leaving a trail of fumes behind you on the country lanes. The drive in the Jaguar was thrilling!
We spent 5 days with the car and by the end felt like pros at using the apps required and navigating an electric car. Needless to say, on our return none of us wanted to give the car back. Least of all me! The pick-up service was so easy and before we knew it our super future car as the boys called it had disappeared as quickly as it arrived. We can't wait for our next adventure with one of THE OUT cars.

Although we can't travel free spirited right now, THE OUT is still open for all essential travel.