For the uninitiated, driving in the UK can be slightly daunting.
If you're in the 66% of the world's population that doesn't drive on the left, then that's one big thing to get used to.
However that's just the start, and there are several more practical tips for those renting cars and driving in the UK that you should be familiar with before getting behind the wheel.‍
This guide will cover the following 10 key areas:
Legal Requirements
Speed limits
Roundabouts
Driving in London
Parking
Fuel
Manual vs. Automatic
Road Etiquette
Hiring a vehicle in the UK
Taking a car to Europe
1. Legal requirements
‍Boring, yes, but the law's the law. Before you get behind the wheel in the UK, you need to make sure that you are fully compliant with the law and have the right to drive on British roads. 
In practice, this means you need to have insurance (note, in the UK you are insured as a driver and for the vehicle), you need to make sure you have relevant documentation with you in the car. This means your ID, driver's license, and proof that you have the right to be driving this vehicle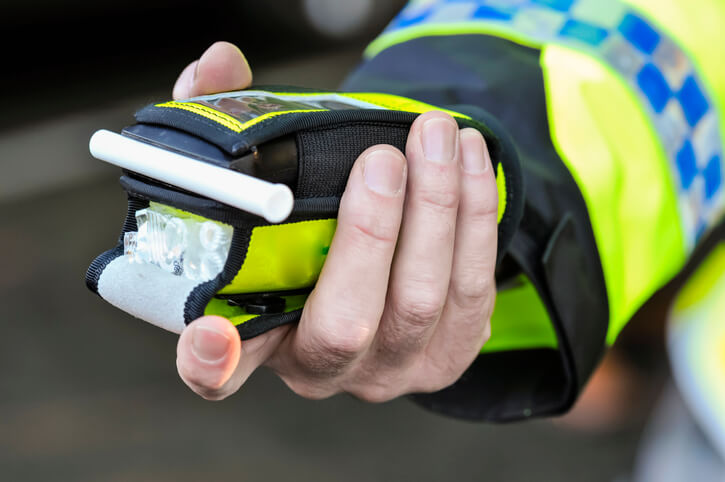 It goes without saying that you shouldn't be under the influence of drink or drugs. We always say it's better to avoid alcohol altogether, but you are legally allowed 35 Micrograms per 100 millilitres of breath in England, Wales, and Northern Ireland, and 22 in Scotland. See the official government website for more information.
How much alcohol this means depends on several factors, including how recently you have eaten, and your size and weight, but even 2 pints of normal strength lager will put most men over the limit. If in doubt, just don't drink altogether.
‍2. Speed limits‍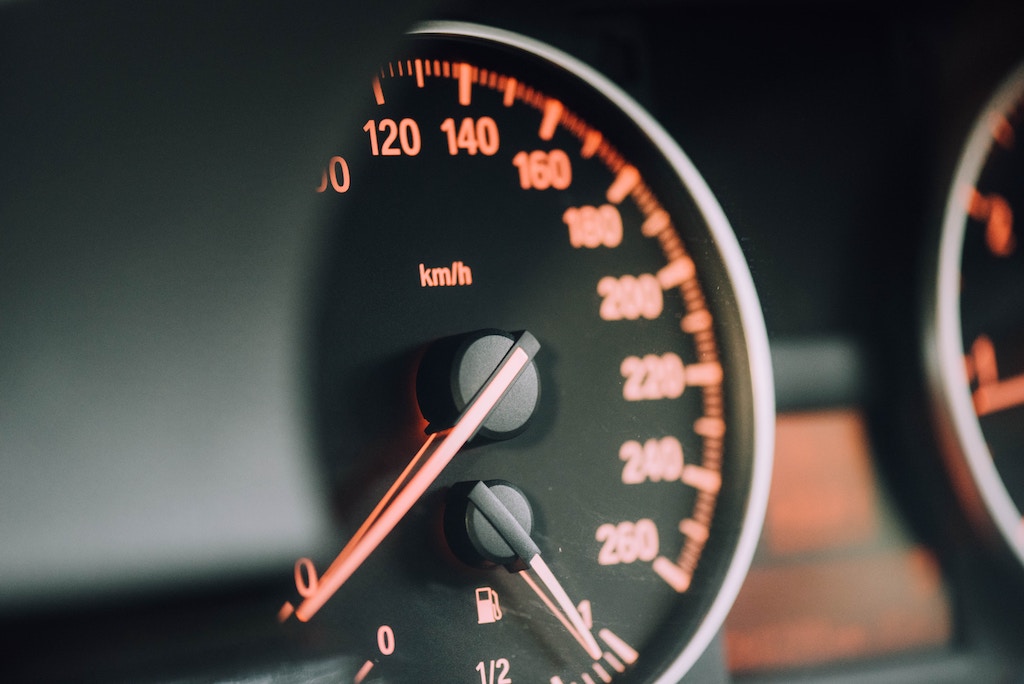 Speed limits. You may find them annoying, but they exist for a very good reason. In the UK the unit of distance used is miles, with 1 mile being 1.61 km, so 5 miles = 8 km. Any car you drive will have a speedometer denominated in miles and the speed limit signs you see will also always be in miles.
The National Speed Limit (NSL) for cars and motorbikes is 60mph (=97km/h) on single-carriageway roads and 70mph (=112km/h) on dual-carriageways and motorways.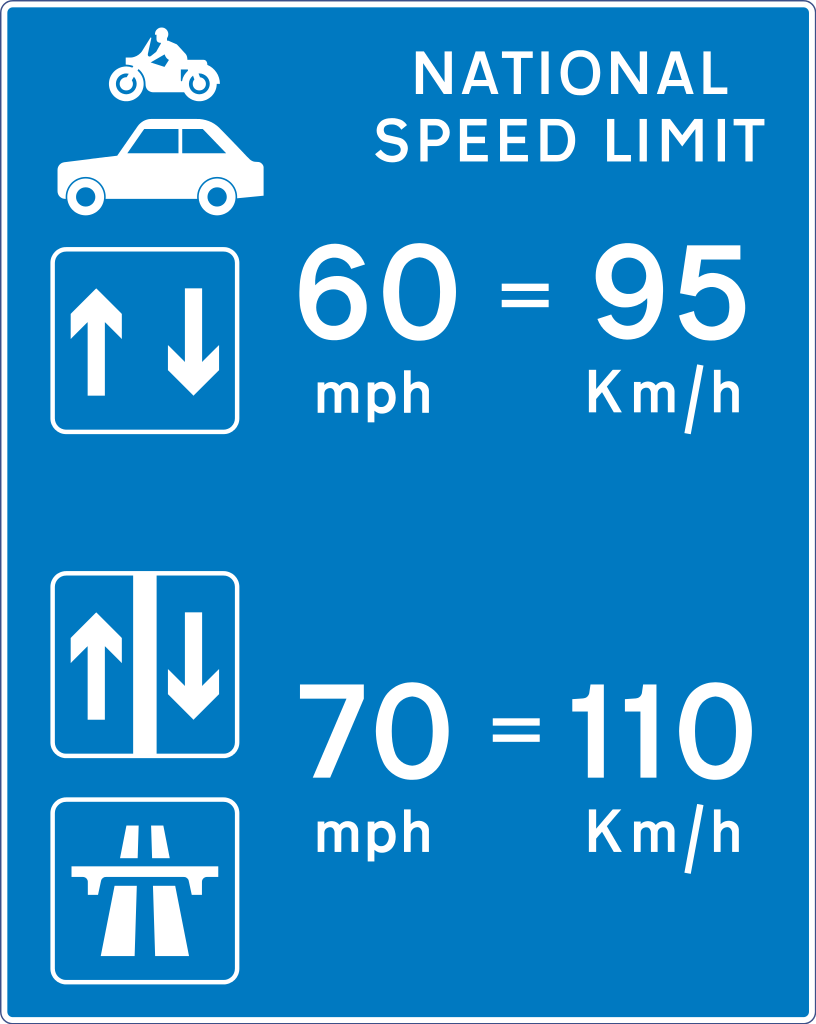 If you go any faster than 70mph anywhere in the UK you will be breaking the speed limit. Especially for our German friends used to driving on the Autobahn, this may come as a bit of a disappointment. 
If you're on a motorway and going at 70mph, don't be surprised to see other cars overtaking you. Brits are notoriously bad at keeping to the speed limit, although this doesn't mean that you should follow their bad habits.
The speed limit in urban areas is significantly lower, typically 30mph (=48km/h), or sometimes as little as 20mph. Some boroughs of London are 20mph throughout, and this will be clearly signed if so.
Road signs in the UK are usually pretty good, and you can see the speed limits on a circular white sign with a red border.  The one exception to this is the National Speed Limit (60mph), indicated by a plain white circular sign with a black diagonal stripe.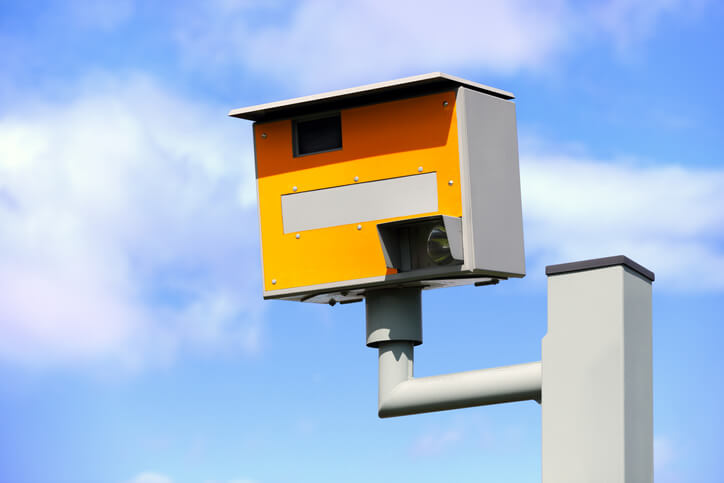 You'll find speed cameras both on motorways and urban roads. Occasionally they'll be clearly marked, but they often won't be, and the first you'll know will be a large flash, or a letter through your letterbox or an email from your car hire company. Don't risk it, and make sure you pay attention to what the speed limit is at all times to avoid this nasty surprise.
Although there's a popular misconception that you can go 10% over the speed limit (giving a margin of error for the measurement equipment), if you're driving on unknown roads, in a different vehicle, and on a different side of the road, just don't risk it.‍
‍
3. Roundabouts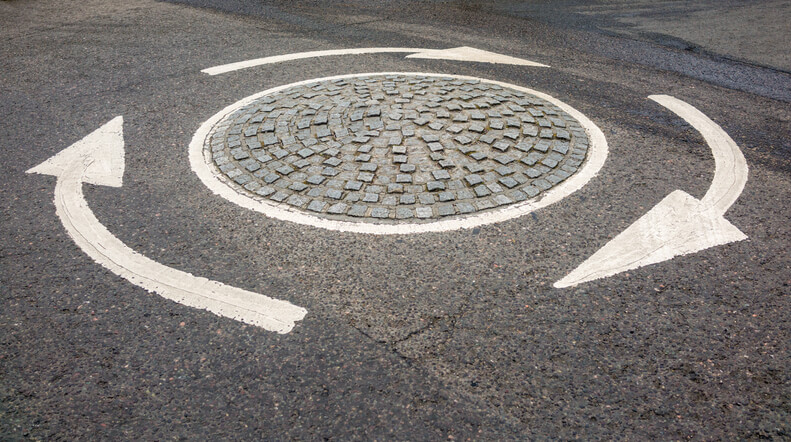 Especially for our American friends, the roundabout can seem like a curious concept. But trust us, when you're back home you'll be wondering why people still put up with intersections. 
The idea is pretty simple. You give way to oncoming cars to the right, and keep going round the roundabout clockwise until you get to your exit. Make sure that you use your indicators so that people know what you're planning next.
Larger roundabouts will have multiple lanes, and some will even have traffic lights. With roundabouts with multiple exits and lanes, the general rule is that if you are turning off the roundabout at the first exit, go in the leftmost lane. If you are turning off on the second (middle) exit, take the middle lane. If you are turning off on the third exit, or more than 180 degrees round the roundabout, take the rightmost lane, whilst always going round the roundabout clockwise.
Simple, we told you.
‍4. Driving in London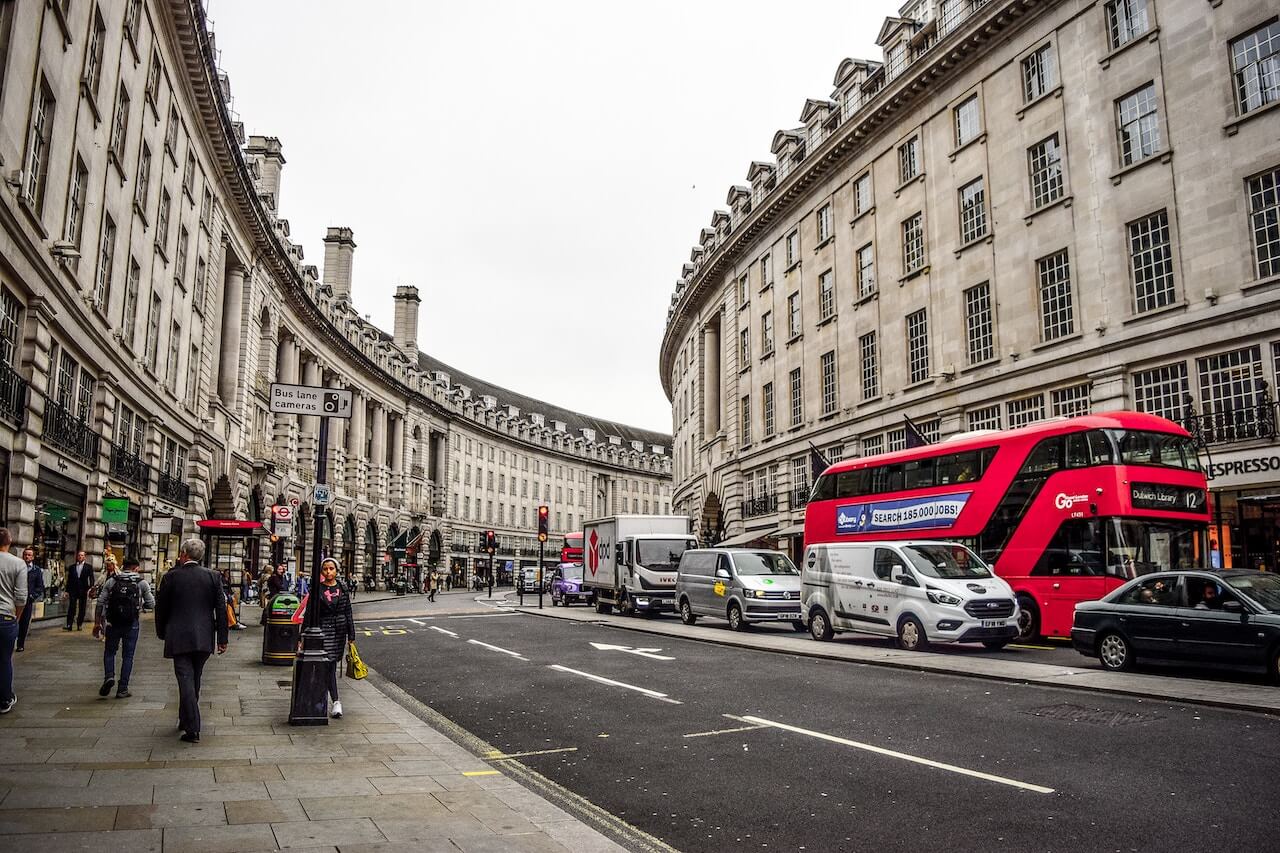 ‍London is a different beast altogether, for several reasons.
Firstly, London has an excellent public transport network, with the metro ("the tube"), the bus, train and tram networks all working very well. To drive around central London you do not need a car, and a combination of public transport and taxis/Uber will more than suffice. Trust us.
If you really do need to drive around in London, then make sure you know whether you'll need to pay the Congestion Charge (£11.50 per day, although this is included with THE OUT rentals), and make sure you know what the parking restrictions are. For this you should download JustPark, YourParkingSpace, or Parkopedia, which will help you navigate London's complicated parking regulations.‍
‍
5. Parking‍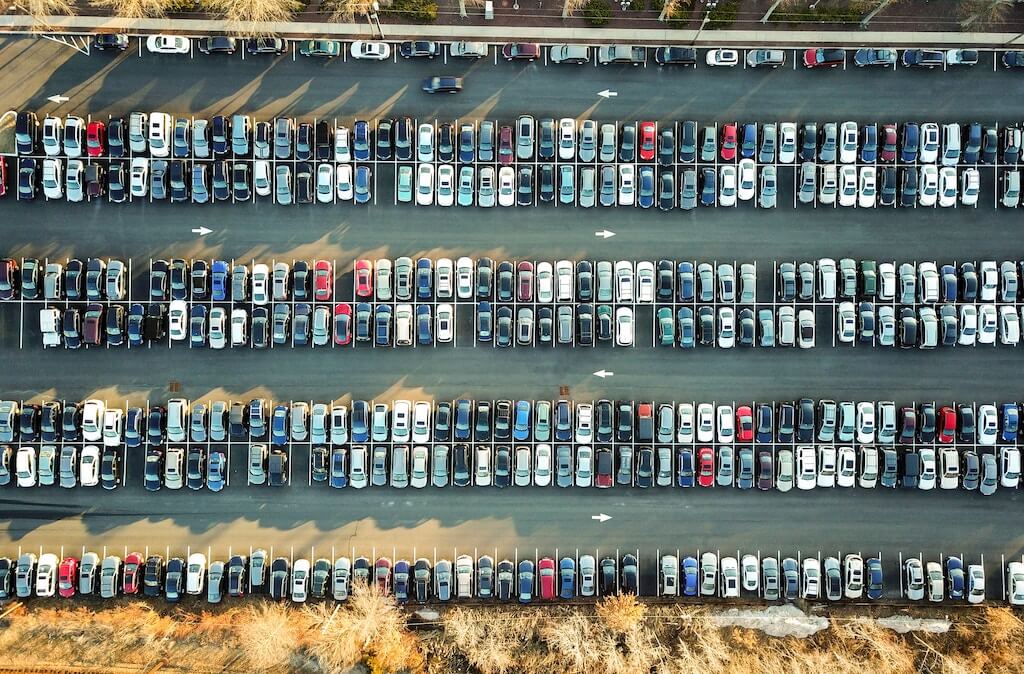 If you're planning to drive into cities, you should make sure you are fully aware of the parking restrictions, as there's nothing worse than coming back to your car and being greeted by a parking ticket on the windscreen. Services like JustPark or YourParkingSpace will allow you to pre-book parking in cities all across the UK, and Parkopedia is the world's largest database of parking information. NCP - or 'National Car Parks' - is the largest parking company in the UK, and also has a city centre car parks in almost every UK city.
Yes, parking may be the last thing on your mind, especially if you're on an amazing roadtrip across the UK, but a little planning will mean less time circling looking for a space, or pulling your hair out when you see the warden writing you a ticket. ‍
‍
6. Fuel‍
‍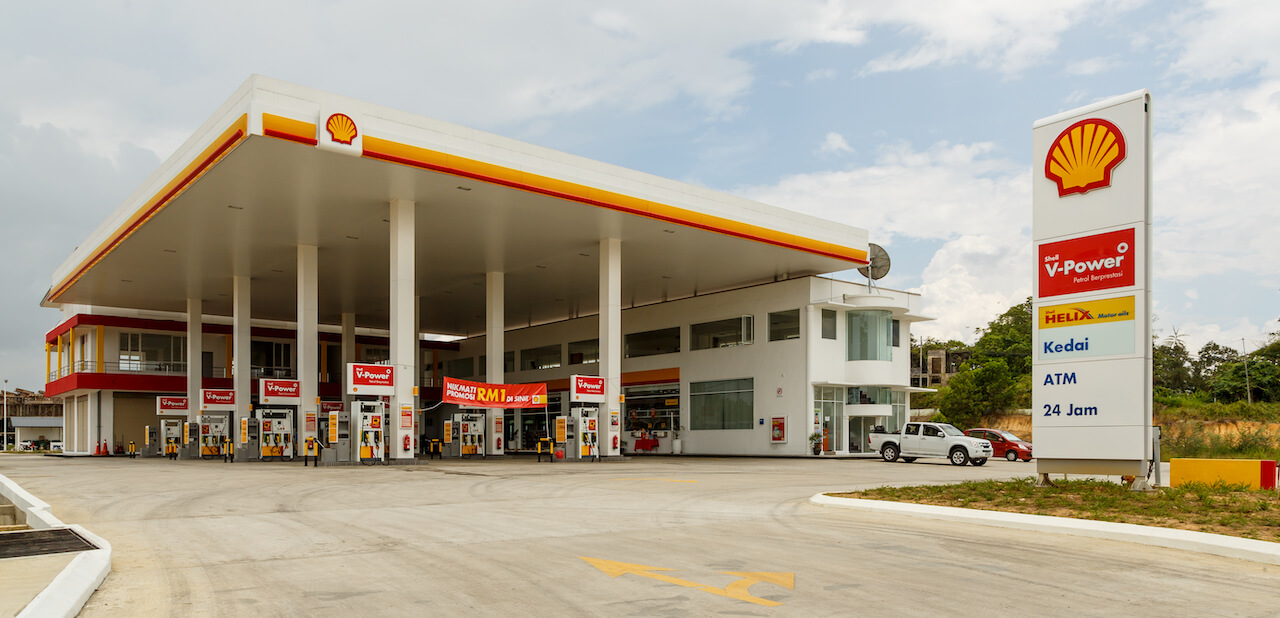 Like anywhere else in the world, you'll need to refuel. Luckily 'petrol stations', or 'service stations' are dotted along every motorway and dual carriageway, and you'll also find them in towns and cities.
There is typically no prepayment required. If you're hiring a car, double check on the kind of fuel it takes, as making a mistake can end up causing lasting damage and being a costly error to fix. Luckily it's hard to get mixed up, and most petrol stations make this easy for you by colour coding things. Regular unleaded is green and diesel is black coloured at the pump. 
For those of you driving electric vehicles, firstly, congratulations. You're part of the future. There are a plethora of recharging points in the UK, and you should make sure that you locate them with ZapMap before you head out. If you're planning to be driving in the UK for a while, and you have an electric vehicle, then it's well worth looking into Polar, which gives you access to over 7,000 charging stations all over the UK.
7. Manual vs. Automatic‍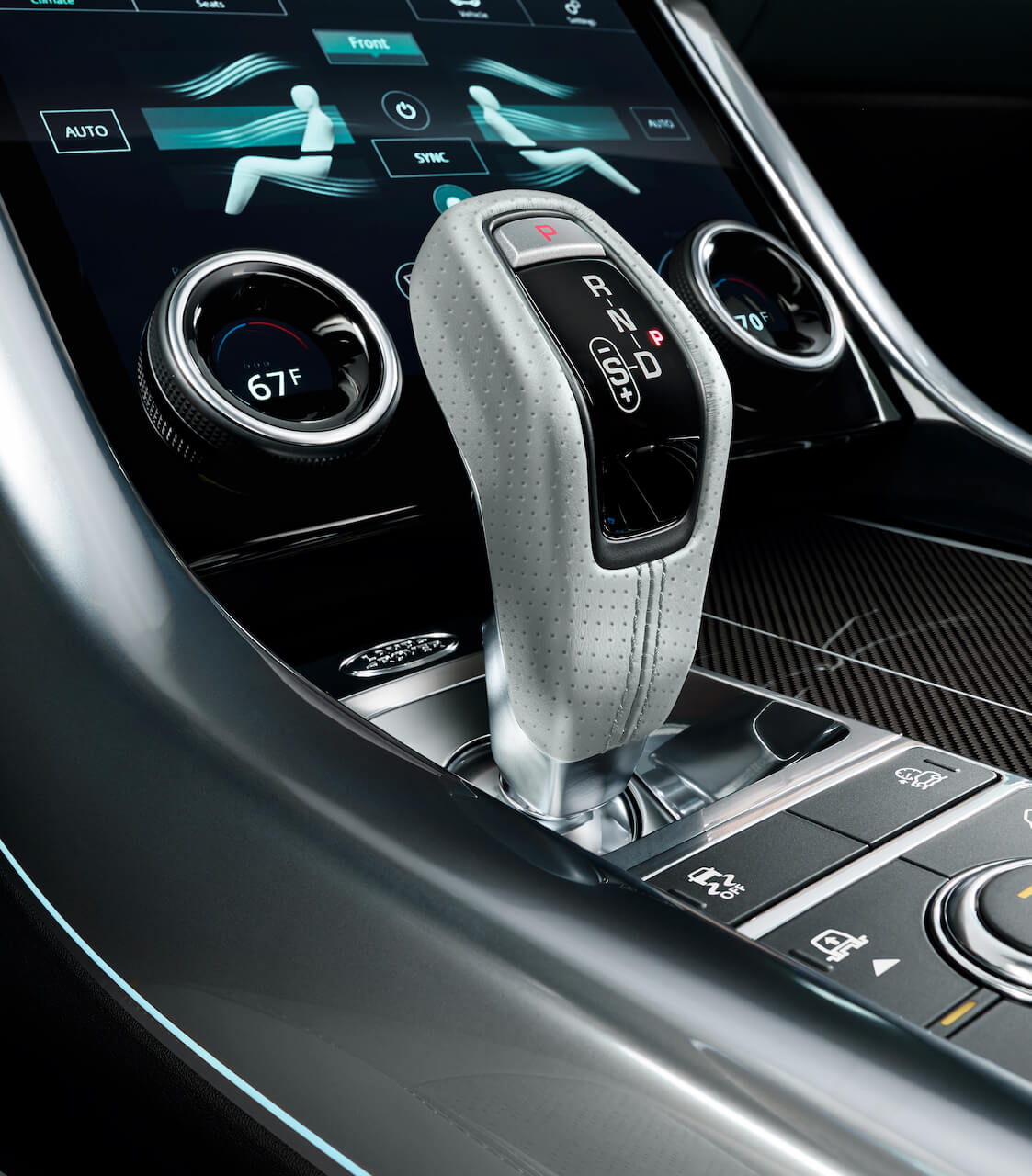 Although a rarity stateside, a large proportion of cars in the UK are 'manual', or 'stick shift'. Automatics are on the rise in the UK, with 40% of all new cars being fitted with automatic transmission in 2017. 
However just make sure that you know whether you're car is manual or automatic, and if it's manual, make sure you know how to drive one beforehand, and make sure that your license covers you to drive a manual vehicle.‍
‍
8. Road Etiquette‍
Brits may have a reputation for being well mannered, and that generally applies to life on the road as well. However there are a few rules that help you stay on the right side of the Brits you are sharing the road with:
Horns should be used sparingly, and only when someone is driving very dangerously. It's not acceptable to honk just to tell someone to hurry up. Also, the use of a car horn is not permitted in built-up areas between 11.30pm and 7 am.
Overtaking is only done on the right. Although there is no law that actually prohibits 'undertaking', this is not expected behaviour on British roads and doing so will not only annoy other drivers but is dangerous.
Always try to let other cars through at a junction, if it won't delay you. It's the nice thing to do.
To acknowledge someone else doing you a good turn, you can flash your lights or blink your hazard lights. It's the driver's version of 'thank you'.
Always pull over (to the left) if there is a police, fire engine or ambulance passing with their sirens on. They're always in a bigger rush than you are.
Always leave plenty of room between you and the car in front, and never 'tailgate' to try to get the car in front to more aside.‍
‍
9. Hiring a vehicle in the UK‍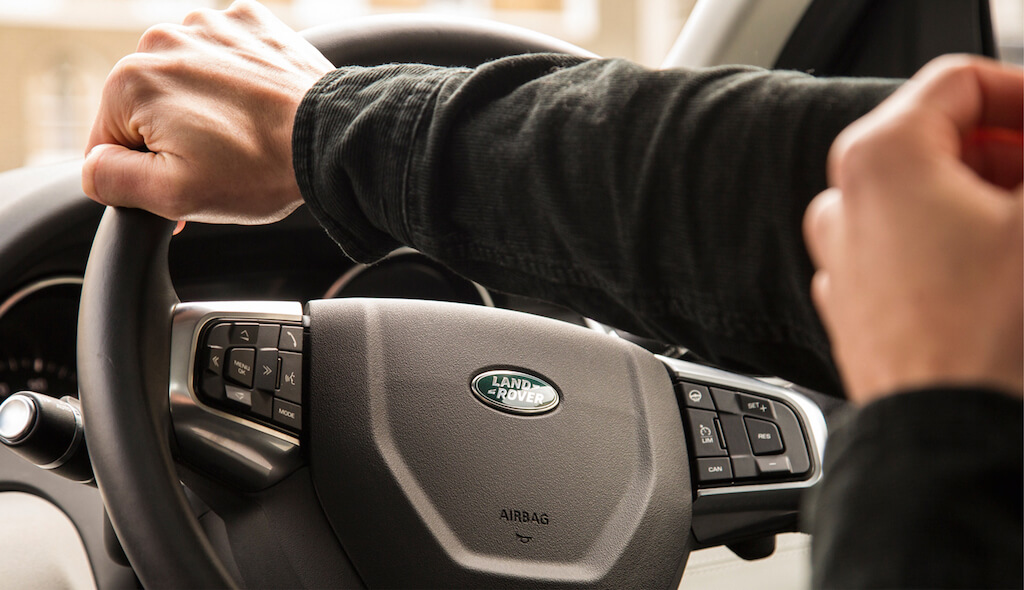 Hiring a vehicle in the UK can be a frustrating process, with many companies offering low headline daily rates, but when you turn up to the counter there are a plethora of unexpected extra charges. 
They key things to think about are:
What kind of car do you need?
Do you need a little hatchback, or do you need something bigger or smarter for a business meeting or more adventurous roadtrip? If you're coming from the US or Canada, cars in the UK are generally quite a lot smaller, so make sure you know exactly what you need, and don't expect a G Wagen if you've opted for a 'compact' vehicle.
How far are you planning to go?
Lots of car hire companies will limit the mileage that you can go, and then sting you with hefty per mile charges. Map out your route, and make sure you understand whether there is a mileage limitation with the rental.
Where do you need to pick up the car from?
Airports are typically cheaper, given the vast amount of competition. Most car rental companies will also have stations in major cities, and there are some companies (such as THE OUT) who will even deliver a rental car to your door and collect it when you're done.
Do you need extras with your booking?
Baby seats, GPS, extra drivers? Make sure you know exactly what you need, and - if you need extras - you know how much the car rental company charges for it. A little known fact is that car rental companies make most of their profits on upsells and add-ons, and so that daily rental price can quickly add up. Some companies (like THE OUT) don't charge anything for extras.
10. Taking a car to Europe
‍If you're planning to take a car to Europe, congratulations. The UK is only 26 miles from France, and from there you have an entire continent to explore. You can choose either the Channel Tunnel, or a series of different ferry options.
However, you should make sure that you have a few things sorted beforehand. If you're renting a car, make sure that the rental company knows that this is your plan. Some may charge extra for this (not THE OUT), and they will need to give you some paperwork so that you can prove that you have the right to drive the vehicle.
If you're driving in some countries, France for example, you'll also need a Warning triangle, Reflective safety jackets, Breathalyser, and Beam deflectors. Make sure that you have these before crossing over otherwise you run the risk of being slapped with a large fine. For further details about driving in France, GreenFlag has an excellent guide.
‍
Final thoughts
If you've got to the end of this guide, congratulations. You should have everything you need for a great, British roadtrip (pun most certainly intended).
If you're in two minds about whether to drive in the UK or not, you should ask yourself whether you want to experience much more than the big cities. If the answer is yes (and we hope it is, time permitting), then you should definitely take a car and explore the rest of the UK. 
The country is far bigger than just London, Oxford, and Stonehenge, and a roadtrip will be something that you won't forget. Quaint villages, amazing walks, beautiful hills and beaches. The options are endless.
For some inspiration of things to do on the roadtrip, check out our Best Roadtrips from London - Part 1, Suitcase Magazine's Favourite Roadtrips in 2019, 5 Fantastic Family Trips from London and our Top 5 Seaside Escapes from London.