This post was written by the legendary Kristina Madsen, who used THE OUT as a support vehicle to complete the Bob Graham round. Read about her amazing race below, and stay updated with her adventures on Instagram.
The Bob Graham round isn't a typical race. You don't pay any entrance fee, there's no cheering supporters and there are no marshals or course markings to help you find your way. Instead you are on your own and you must build your own support team to help you run up the 42 highest mountains in The Lake District in under 24 hours.That's a total distance of 66 miles with 26,500 feet of climbing over some of the most hostile yet beautiful terrain in the world.
A pub landlord called Bob Graham firstran the round 87 years ago and ever since it has become a legendary challenge amongst the running community. Two-thirds of runners don't make it on their first attempt but when I first heard about 'The Bob' I knew I had to give it go.
So last Saturday morning at 4am I set off with my good friend Mark Harber and a great team of pacers, navigators and support crew to attempt a challenge I had clearly underestimated before I arrived in The Lake District.
My name is Kristina Madsen and I'm a professional trail runner from Denmark. I live to run, seek adventure and push my physical boundaries. There's absolutely no similarity between flat Denmark and The Lakes. In fact our highest peak is just 180 meters above sea level so lots of my training for the Bob Graham was done inside on a treadmill or outside running up and down the same hill 40-50 times in a row.
The traditional way to run the Bob Graham is to split the round up into 5 legs where you can change pacers and pay a visit to your crew car to eat and drink. It was therefore crucial to have a good car that can carry runners, crew, food and water across the rugged terrain of The Lake District. THE OUT kindly supplied a Land Rover Discovery Sport to help me with this challenge - it was without doubt the perfect vehicle for the job!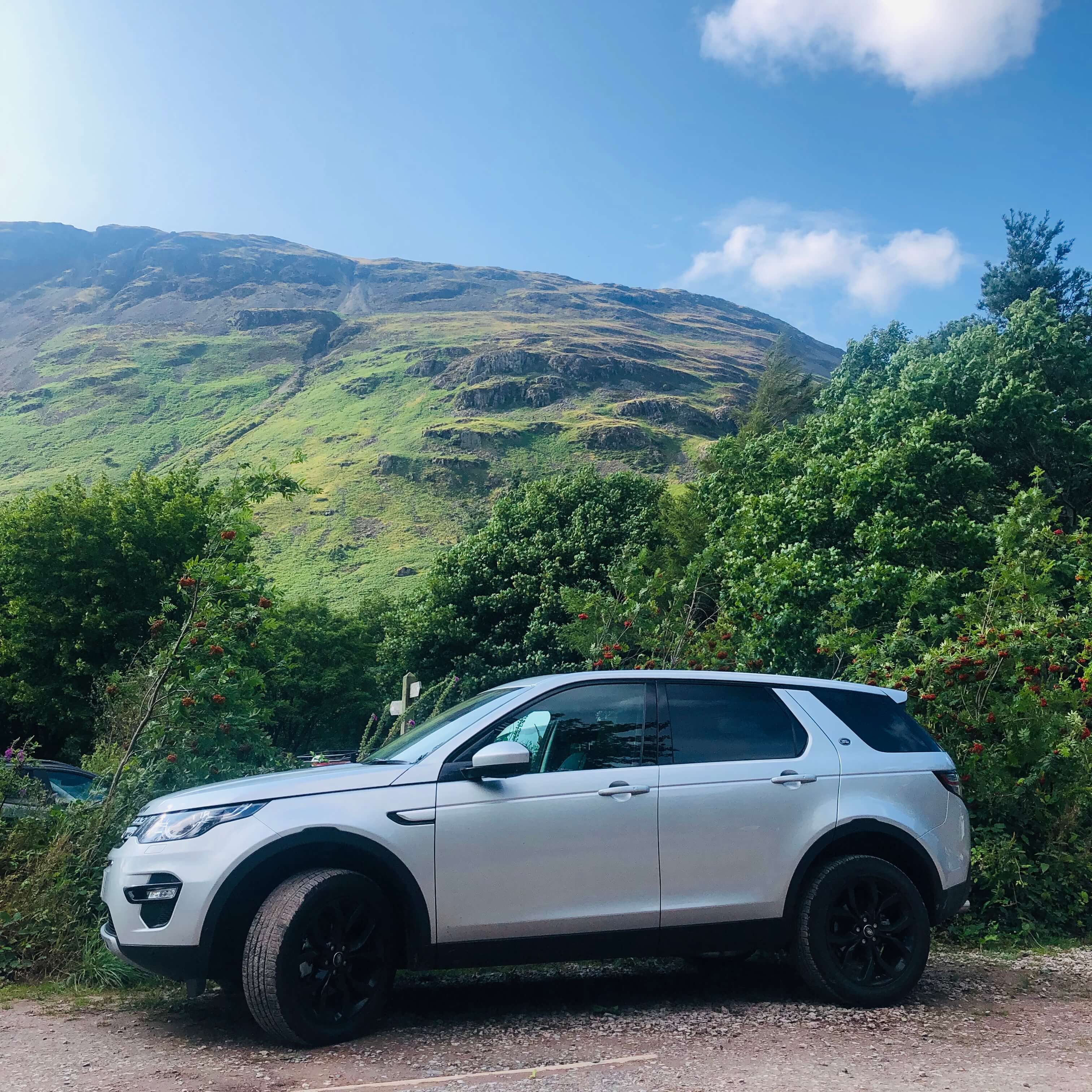 The first leg started with a tough and steep climb in heavy rain up a peak called Skiddaw. We soon stepped into low clouds and the visibility and temperature dropped dramatically. It felt like a scene from The Lord of the Rings with grey and dark colours and a thick mist all around us. These were tough conditions but nothing could stop the smile on my face and the feeling of excitement about the challenge ahead.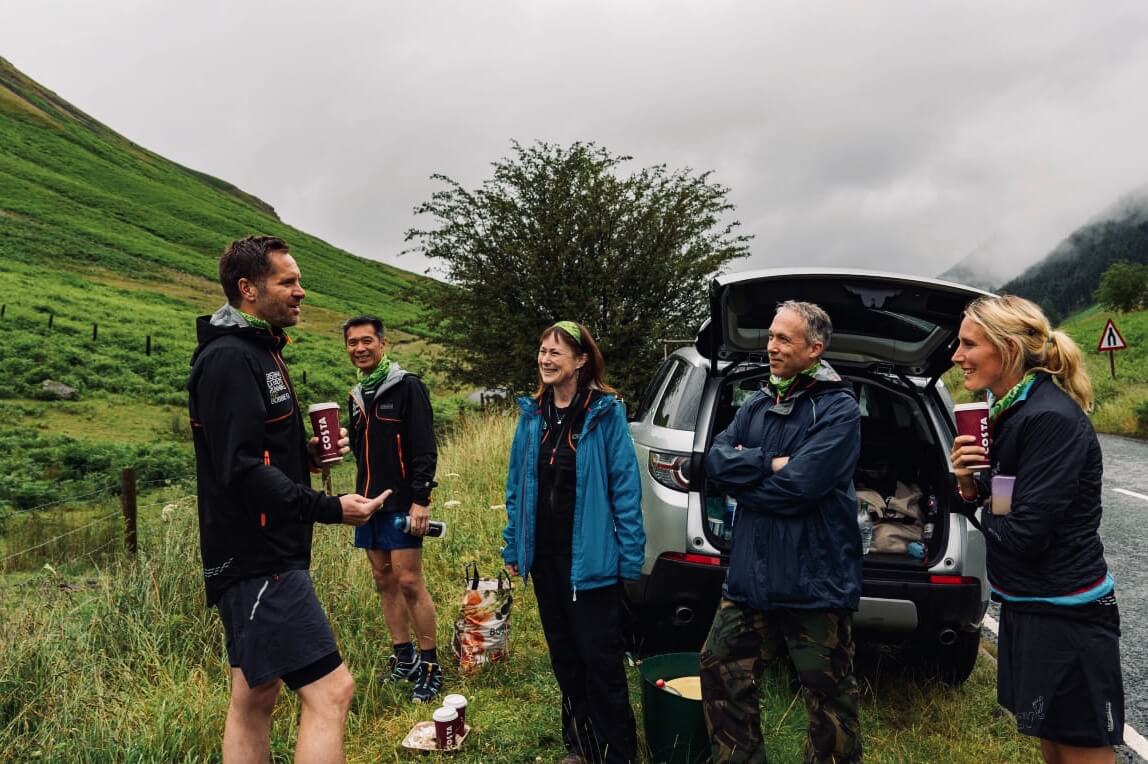 My pacers, Ellis, Will and Steve did an amazing job navigating me and Mark over the 3 peaks of Leg 1 but dueto the wet weather we decided to descend a slightly slower but much safer way down the last peak Blencathra than planned. Despite the detour we met our team inthe Land Rover at Threlkeld right on time and after a very quick stop to eat and drink from the boot of the car we ran off on the second leg. My body and legs felt great and I was so happy and thrilled to be finally running the eventI had planned and dreamt about over the previous few months.
Leg 2 has 12 mountains including the famous Helvellyn which is 950m high. The first climb is really tough as you start from the valley and basically run straight into the sky. Well to be honest, you actually walk because it's too inefficient to run when it's that steep. We only had one pacer for this leg but Chris did a brilliant job, not only navigating but also carrying our water, energy and spare kit.
It's an incredible feeling running along the ridges, tagging one peak after another knowing you are moving forward at a good pace and enjoying the magnificent views of the fells that would occasionally appear through gaps in the cloud.
We conquered Leg 2 in 3 hours and 49 minutes and even though I'd now been running for over 7 hours on technical and hilly terrain I felt great and was even able to push a little harder on the last two peaks, Fairfeld and Seat Sandal. It was at this point that unfortunately I started to lose Mark. I was confident he would catch up on the down hill section but after a very short break by the Land Rover at Dunmail Raise it became obvious that we had to split up.
I continued on Leg 3 with support runner Ellis Bland and Mark continued with Alex Wong. Me and Ellis were a perfect running team. He was brilliant with the navigation but would also cheer me on as I ran. I felt great and was amazed by what the body and mind can do. On our third climb of Leg 3 we reached the half waypoint for the total elevation of the round - 4,000m. As we say in Danish, "The legs were all diamonds!"
In perfect harmony Ellis and I raced our way through what some people called the hardest leg of the Bob Graham but I really enjoyed it. It was tough and I had to really concentrate on the tricky and slippery rocks but I loved every second of it.
I was looking forward to getting England's highest peak - Scafell Pike - ticked-off followed by the steep and exposed scramble up Lord's Rake. Mybrain said, "Take it easy". Myheart and legs said, "Come on Kristina. Alwaysfull gas!". So we went up Lord's Rake at an insane pace breaking all PRs and Strava segments. I had a blast!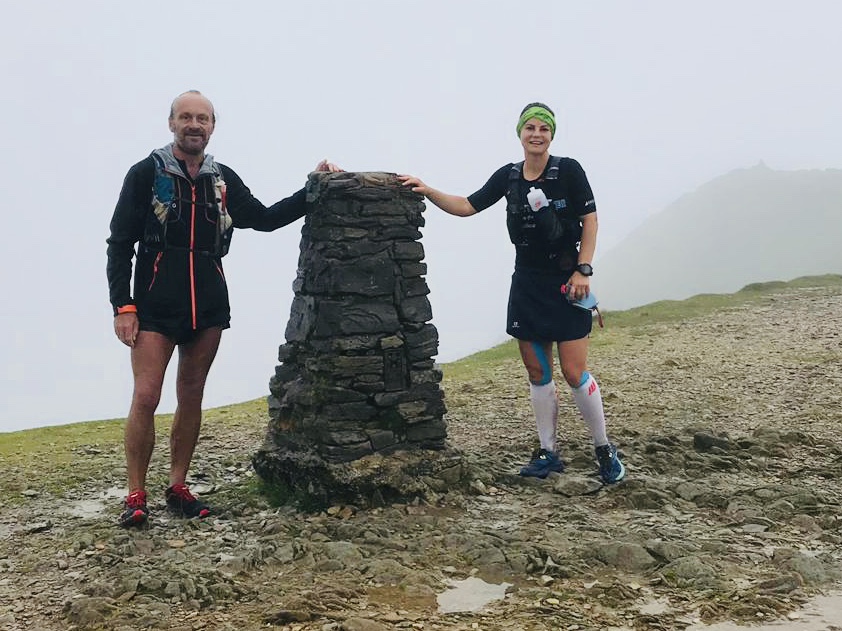 When we reached Wasdale, which is the third checkpoint, I was in high spirits but Leg 4 turned out to be my toughest time on the Bob Graham. It's long, it's hilly and there's a long way to run between the peaks. The scenery is beautiful but my head started to play games with me. I became a bit annoyed at myself and said that of course I couldn't do the Bob Without having a crisis. And it's here now - deal with it and just keep on moving. When I started to reach the last checkpoint I was so angry at myself for losing time on my schedule that I decided not to stop at all for a break.
So I ran directly past my crew at the last checkpoint and straight onto Leg 5 where I met with my new pacers; Maibritt, Simon, John and Craig. I was determined to catch upon time and achieve my ambition of a sub-19 hour finish. This meant running at a crazy pace and I gave it my everything, pushing my body to the maximum on the whole of Leg 5 with big help from my support runners.
After the final 3 mountains was a steep and technical descent towards the road which led to the finish in Keswick. Once I hit the tarmac there was only 5 miles left and I had to go for it!I used every bit of energy I had left in my body and I tried to raise the pace as much as possible. The rest of my support team met us in the Land Rover and were able to drive alongside me for a little while shouting encouragement as I ran. It gave me so much motivation and belief in myself during those final stages of the challenge.
At long last I ran into Keswick where it had all began nearly 19 hours earlier. It felt like forever. I ran up the stairs to Moot Hall and stopped my watch. I had completed the round in 18 hours and 45 minutes. Beating my target time and also making me the third fastest woman to ever complete the round.
I was exhausted and yet elated.
To complete The Bob Graham Round is one of the most amazing, beautiful and toughest challenges I have ever done. One thing's for sure - I'm coming back to do it all again and see if I can go even faster.
A massive thank you to all my crew and to THE OUT for supporting me on my Bob Graham. I couldn't have done it without you.
Kristina.
‍