The Land Rover Discovery Sport HSE. A true vehicle for adventures. It was the first vehicle that we offered with THE OUT, and still makes up a large proportion of our fleet.
But what is it about this vehicle that makes it special, and why do our customers rave about it?
First and foremost, the Land Rover Discovery Sport has adventure in its DNA. The clue is in the name, Discovery. It's a vehicle that is powerful enough to handle anything you can throw at it, yet feels small and manageable enough so it's not a big step up if you are only used to driving smaller vehicles.
For those of you who may have been used to driving hatchbacks or saloons, it doesn't feel so much bigger, but you certainly feel in command when you're behind the wheel. If you'd previous driven something like an Audi, Mercedes or BMW then you may feel at home in a Discovery Sport. It is a Land Rover, so has premium British heritage and immaculate design at every turn.
Despite it's adventure-ready tagline, and focus on the outdoors, we think it doesn't fare to badly in the style category.
With a panoramic sunroof, 19 inch alloys, and much more, this one is more of a head-turner than you might think. If you're looking to impress at a wedding, a family gathering or a romantic weekend away, you will surely not be disappointed when you rock up in a Discovery Sport.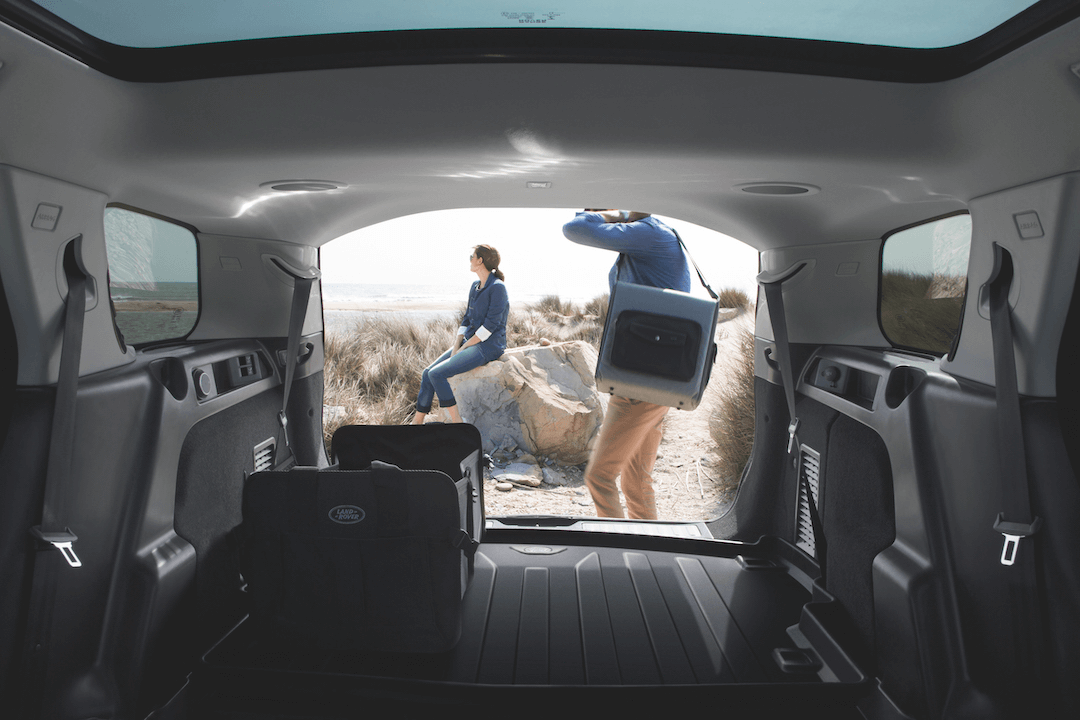 It's got 5 seats, with an extra 2 in the back, so you can get 7 people in there if you're prepared to sacrifice some boot space. With the 2 seats in the back down, the boot has oodles of room, so whether it's camping gear, suitcases fit for all the family on a summer road trip through Normandy, or all the wedding kit you and your mates need for a friend getting hitched in the country, there's enough space for it all.
‍

Where to go in a Land Rover Discovery Sport?

‍
Perhaps you should actually ask yourself "Where not to go?"

This adventure-loving 4-wheel drive feels equally at home down a country lane as it does through the cobbled streets of Arras. So the road is your proverbial oyster, each rental with THE OUT comes fully loaded with unlimited mileage, and so there really isn't an excuse to not take this vehicle on a serious adventure. To put the 'trip' into road trip. To put the 'discovery' into Discovery Sport.

It would be a shame to go on a purely urban trip though, and you should check out Suitcase Magazine's Favourite Road Trips for 2019, or our Top 5 Seaside Escapes from London for inspiration. If you're looking further afield, many THE OUT customers have returned raving about road trips through The Highlands of Scotland, down to Devon and back, or exploring the Welsh valleys.

As with lots of road trips, sometimes the most memorable trips are where you aren't following the map. You've turned off your phone, or you're turning right when the sat nav says turn left. You're following your gut, and perhaps you've seen a lovely looking village or pub far in the distance, and you just need to find the right path to get there.

Don't worry though. This vehicle has got an inbuilt sat nav, so if you do take a wrong turn or you just need that crutch of some good old GPS, it's all there within the dashboard. You can link up your iPhone to the vehicle as well, so whether it's to charge it up to make sure you've got enough juice to get some photos for Instagram, or to make that last minute dinner reservation, you're not going to be left on 1%.

What's more, whilst still being a premium vehicle, the Land Rover Discovery Sport is our most competitively priced vehicle. For accurate pricing get a quote via the app.

As with any booking with THE OUT, this comes with delivery and collection to your address in London zones 1-5 (plus London airports), unlimited mileage, additional drivers, refuelling at the pump price, and much more. So if you were looking for an excuse to not get behind the wheel of one of these fine vehicles, we think you'll be hard pressed to find one.

You Book. We Deliver. Roadtrip.GO.